COVID-19 Updates and Resources
The health and wellness of our staff, partners, and the individuals we serve is our number one priority. As this rapidly changing situation develops, we encourage you to check this page frequently for updates, important information, and resources.
For all inquiries, please feel free to call 860-679-1500 or email infoucedd@uchc.edu.
We appreciate your patience as we adjust to new ways of advancing our mission of promoting full access, equal opportunities, and participation for all.
Local Vaccine Outreach Grant
The UConn UCEDD is completing local vaccine outreach in the disability community through a cooperative agreement with the Association of University Centers on Disabilities (AUCD). AUCD's National Center on Disability in Public Health and Prepared4All created the resources below to provide reliable and accurate information on the COVID-19 vaccines. If you have any questions or would like additional information contact Tara Viens at viens@uchc.edu or call our center at 860-679-1500.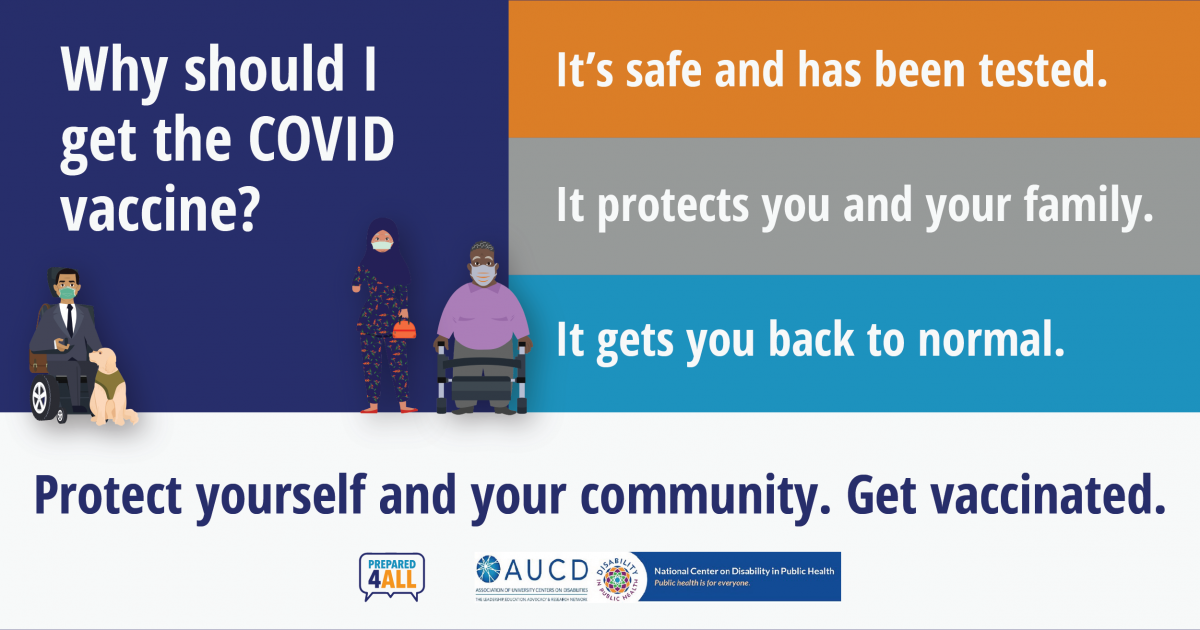 Part 1: General Plain Language Vaccine Confidence Talking Points
Part 2: Variants Plain Language Talking Points
Part 3: Prepping Children for a COVID-19 Vaccine
Part 4: COVID-19 Booster Shots
Part 5: How to Advocate for Your Safety During COVID-19
Part 6: Addressing Needle Hesitancy and Fears
Part 7: Addressing Health Misinformation
Part 8: Improving Access to Testing and Vaccines
Part 10: Finding Trusted Sources
New COVID-19 and the ADA, Accessibility and Civil Rights
Persons with Disabilities
Safety Tips Videos from Self-Advocates
Direct Support Professionals
First Responders to Assist People with Disabilities
Children and Youth with ASD
Children and Families
Parents who wish to access supports are invited to call 833-258-5011 and speak with trained professionals who will listen and speak with them about their concerns and, if additional help is needed, refer them to responsive services. They can also utilize their phones to visit www.talkitoutct.com and click on the link to be connected to the same caring professionals.