By Josh Kovner, Hartford Courant
The leader of a group serving people with intellectual disabilities in the Farmington Valley told Sen. Ted Kennedy Jr. and other legislators on Tuesday about an internship program that so far has developed about 20 motivated workers, all of whom have gotten jobs at competitive wages.
Stephen Morris, executive director of The Arc of Farmington Valley, had struck a chord, making it plain that this training course, called Project Search, differs markedly from others because it takes place inside a host business and stresses independent, mainstream work, rather than group employment.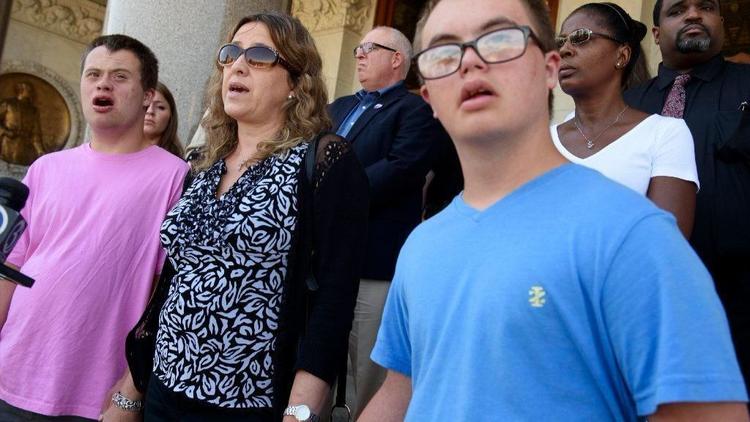 It is, Morris said, one of those unsung programs that has proved its worth, and pays for itself many times over in economic benefits and the doors it thrusts open for people.
But Kennedy's first question hit on why Morris, whose agency is known as FAVARH, was testifying before the legislature's Intellectual and Developmental Disabilities Caucus.
"Why hasn't this been replicated across the state?"asked Kennedy, a Democrat from Branford.
Morris said he very much wants that to happen and that he has had to battle through some discouragement since he learned a few years ago about Project Search — begun in 1996 at the Cincinnati Children's Hospital as a way to fill high-turnover jobs.
He said it has been a challenge to consistently find the right executives of midsized to large businesses who can snap their fingers and have their organizations host a Project Search internship class.
"I knocked on doors at UConn Health for two years until John Hampton [the Democratic representative in Simsbury] connected me to the right person," Morris said.
But when that happened, things moved quickly.
Project Search participants, usually 20 to 22 years old, are in the last year of their federally mandated high school program or their first year out.
At UConn Health, FAVARH's group convenes each morning during the school year in a classroom. Then the eight to 12 participants fan out, work at their job sites in the pharmacy, the mail room, with the cleaning crew, in the cafeteria or elsewhere in the sprawling complex. They wrap up the day back in the classroom to discuss the real-world experience and address weak spots and concerns.
"We build skills in the classroom and practice them through the day," said Morris.
"Getting jobs at competitive wages is the largest contributor to the health and happiness" of people with disabilities, said Edwin "Win" Evarts, executive director of The Arc of Connecticut in Hartford.
He said the state was once a national leader in job placement but has slipped to the middle of the pack, in part because the departments of Rehabilitative Services, Developmental Services and Economic Development haven't been unified in the way each spends its job-training funds.
Evarts said the three departments are now trying to come up with a coordinated approach that allows the public money to go further. He said it would be worthwhile for the departments to hire one unbiased project manager to see the effort through.
Morris said it costs a nonprofit agency about $20,000 to $25,000 to start Project Search — which he said was less expensive than the typical group-employment training regimen. In that scenario, job coaches travel to the job sites with the work teams. Project Search participants are trained to work independently, without group support.
Nationally, 75 percent of Project Search graduates are hired, often by the host businesses. FAVARH, said Morris, has had a 100 percent placement rate in the two years his agency has been at it.
On April 17, the founder of Project Search, Erin Riehle, will meet with Morris' team and representatives of five other Arc agencies from across the state.
If several of them adopt the program, it will represent the largest boost that Project Search has received in Connecticut.
Rep. Mitch Bolinsky said he wanted to hasten the spread across the state.
Bolinsky, a Republican from Newtown, mentioned Hampton's work in referring Morris to the right person at UConn Health and said dozens of legislators could serve as local ambassadors for Project Search and work to make similar connections.
"I'd like to see it hooked up," he said.
Added Kennedy, "When you give someone with an intellectual disability a job, you are giving them their freedom."
---